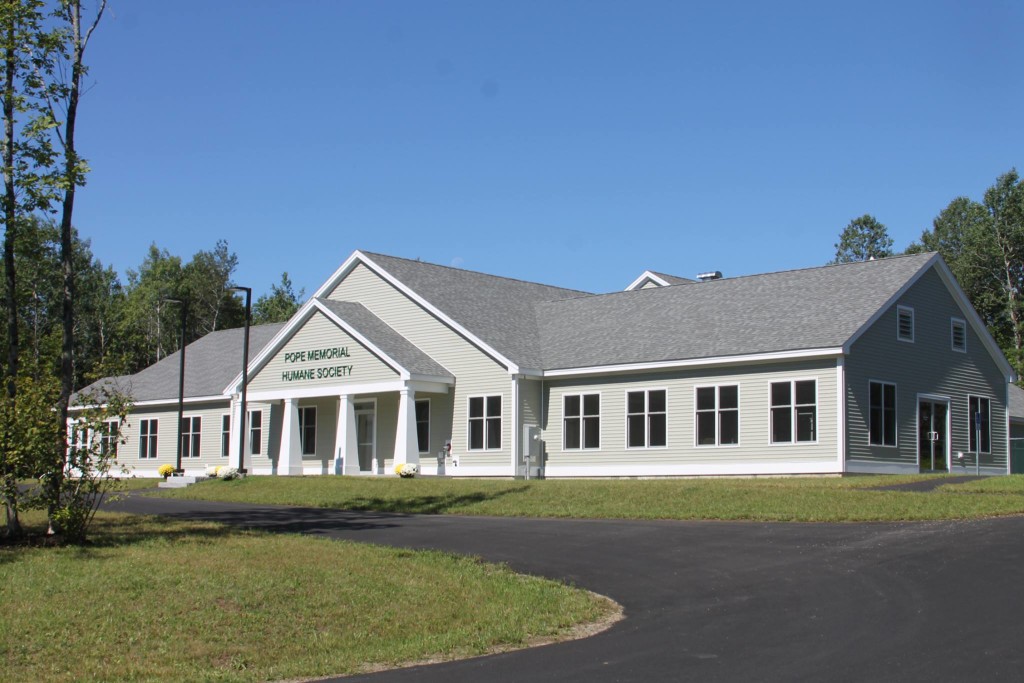 MISSION STATEMENT: Pope Memorial Humane Society is devoted to caring for and placing unwanted and abandoned animals in loving homes; promoting responsible pet ownership and humane treatment of all animals.
OUR HISTORY: The Pope Memorial Humane Society was founded in 1989 in response to the needs of homeless animals – their protection, care and adoption. Money was raised to purchase the land between Dexter Street Extension and Buttermilk Lane in Thomaston, Maine. With generous support of many animal lovers, and a substantial mortgage, the shelter was built and opened in November 1991. Since that day thousands of animals have been lovingly tended, rehabilitated and adopted. Volunteers and members of PMHS are from every community – students, retirees, artists and businesses.
The following towns contract with the Pope Memorial Humane Society of Knox County: Rockland, Thomaston, Warren, Owls Head, St. George, Port Clyde, Martinsville & Tenants Harbor; So. Thomaston, Spruce Head, Union, Appleton, Cushing, Matinicus, North Haven, and Vinalhaven, Stockton Springs, and Morrill.
* All animals admitted to our facility are cared for until they are adopted.
No animal is euthanized unless severe physical or
behavioral problem exists that cannot be resolved.
Animals are not euthanized for time or space.
* Open Monday through Saturday for your convenience from 11am-5pm.
Closed on Sundays. In addition, closed the third Wednesday of each month for staff training.
Closed New Years Day, Easter, Memorial Day,
Fourth of July, Labor Day, Thanksgiving,
and Christmas
Facebook
Pope Memorial Humane Society of Knox County
Tracy Sala, Executive Director
director@hskcme.org
Theresa Gargan, Manager
manager@hskcme.org
Chrys deLorimier, Development Director
Chrys@hskcme.org
Anna Adams, Events/Outreach Coordinator
events@hskcme.org
Kelly Gould, Volunteer Coordinator
volunteers@hskcme.org
Our Board of Directors
We are fortunate to have a passionate Board of Directors that is dedicated
to the Humane Society's mission. Their hard work and guidance enables us to make wonderful changes in the community.
Kim Grinnell— President
Paulette Stewart – Vice President
Judy Brogden—Treasurer
Alicia Costa – Secretary
Kathy deRochemont
Dr. Glenn Yovino
Barbara Nickerson
Lyman Pope, Advisor